Last Friday morning, Allen Boartfield woke up to a distressing phone call. Two small dogs had been spotted sitting next to a mountain of trash on a street corner in Barstow, California.
"I was contacted about them at 8 a.m.," Boartfield told The Dodo. "I was given an intersection and told I couldn't miss them."
The dog's owner had been evicted, and in the process of packing up, had put her two dogs in a wire cage and left them amidst the pile of old blankets and unwanted clothes for the morning garbage pickup.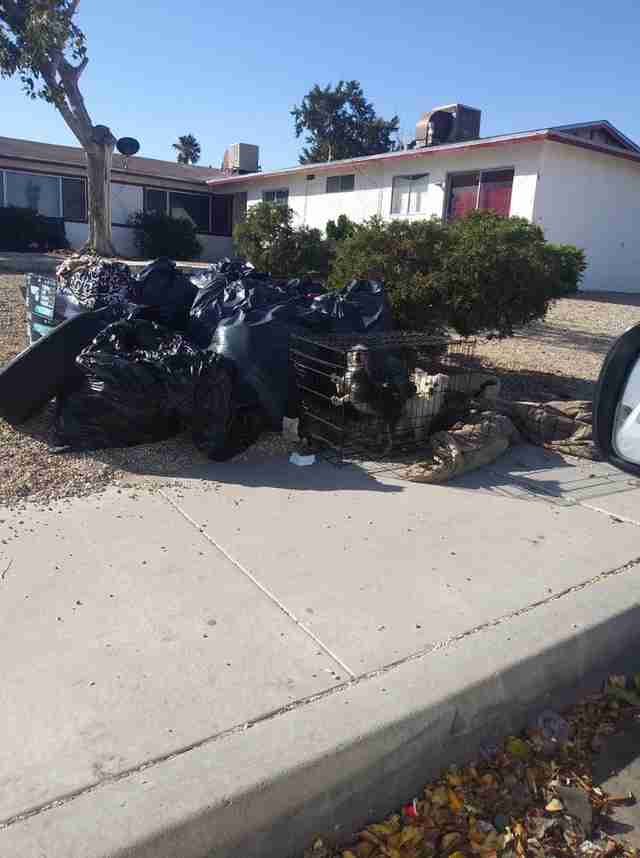 Boartfield, a volunteer with Dream Fetchers: Project Rescue, drove to the intersection, and thankfully the two pups, now named Treasure and Catch, were still there. But it was clear to Boartfield that the tumultuous morning had taken a toll on the animals.
"They were both extremely scared," Boartfield said. "Treasure got used to me fairly quickly, but Catch never did."
Catch, desperate to protect his sister, gave Boartfield a few nips on the hand, but it didn't deter the rescuer from getting the dogs the help they needed.
"Catch is very attached to Treasure," Boartfield added. "So attached that, when I moved Treasure into another kennel, even though Catch was very scared still, he ran across my lap to be in the same kennel as Treasure."
The dogs were rushed to Camino Pet Hospital in Irvine, California, where staffers examined the neglected dogs. "Catch and Treasure came to us with visibly shaken spirits and broken hearts," Hedy Herold, rescue coordinator for the hospital, told The Dodo. "Treasure was so matted that she couldn't move without pain and she was snapping at our technicians who wanted to help her."
The two huddled together, but had to be separated due to Catch's cold that required he be put in isolation for treatment. After a few days, Treasure was ready to be bathed and spayed — and has since transformed into a happy, outgoing pup.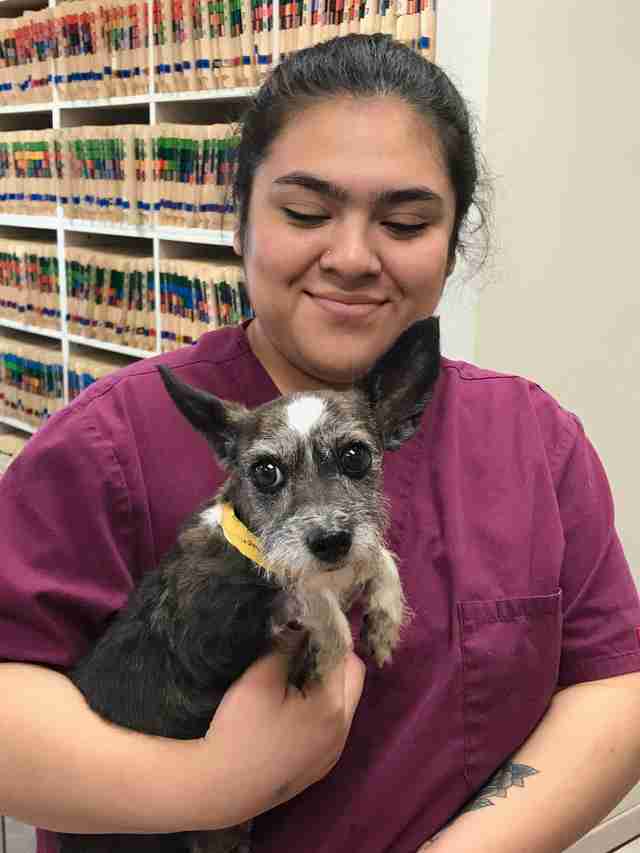 "She stands in her cage, which we like to call her 'bedroom,' and wiggles and whines until I open the door," Herold said. "She even leapt into my arms and covered my face in kisses that made cute little sounds. I pet her a lot with my hands before going to see Catch."
While Treasure is almost recovered, physically and emotionally, Catch needs a little more time to heal. He's still too shy to say "hello" or to receive pets, but the little white dog has all the staffers rooting for him and that the pair of friends will find a loving home together.
"Some hearts mend more quickly than others," Herold said. "Nobody is giving up on him!"