A maintenance worker was investigating a burst pipe inside a housing complex in Wichita, Kansas, and as soon as he entered he realized something was not right.
When he opened an apartment door, he was hit with a horrible smell, and then he noticed a small plastic dog crate in the corner of the room. Inside were two 7-month-old puppies.
Though it was clear the puppies were in distress, he found it odd that they weren't making any noise.
"There was feces and urine just spilling out the front of the kennel," Sarah Coffman, executive director of Wichita Animal Action League, told The Dodo. "Then he noticed that the puppies couldn't open their mouths — so he shined a flashlight in the crate and realized that they had something wrapped around their muzzles, and that their noses were really swollen and red."
Unsure of what to do, and unwilling to leave the two terrified puppies alone, the maintenance worker called a friend who fosters dogs for the Wichita Animal Action League. "She called us and was like, 'I don't know what to tell him to do,'" Coffman said. "I was like, 'Tell him to wait right there. I'm on my way and I'm bringing the calvary.'"
Early Tuesday morning, an employee was starting her day at the Georgia Welcome Center, just across the South Carolina border, when she noticed a garbage baglying next to a trash can.
In an effort to tidy up, she bent down to put the bag back into the bin, but stopped in her tracks when she heard a pained cry.
There, inside the trash can, shiny marble eyes belonging to a tan Chihuahua weighing no more than 6 pounds stared back at her.
The staffer immediately lifted the scared animal out of the bin and brought her inside. Not sure what to do with the abandoned dog, and fearful that her supervisor would arrive any minute, the woman called a coworker who had previously volunteered with Hart County Animal Rescue for advice.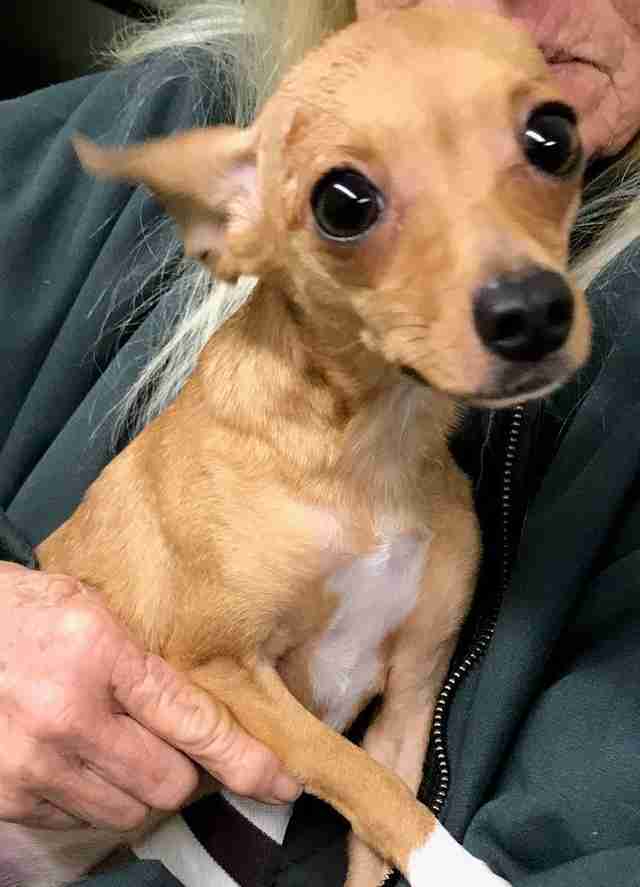 The dog, now named Carolina, was brought to the vet, and held overnight for observation. "She was wet, cold, hungry and scared to death," Judy Partain, director of Hart County Animal Rescue, told The Dodo. After a week of freezing rain in the area, it seemed a miracle that the frail, young dog had escaped the worst.
Did you ever get so excited that you just can't hide it? Despite her rough start in life and landing in an animal shelter, Matilda the Pit Bull puppy constantly smiled. At the Douglas County Animal Shelter, they discovered she had stomach worms, irritated skin, and wasn't feeling too good. The whole time, she wagged her tail anyway– and always looked so happy.
Pibbles & More Animal Rescue's coordinator, Teresa Bowles-Chiofalo, took notice of the happy pup and decided to get her a foster home. When the woman went to get the puppy, this is the face she made during the car ride. The rescue group posted the photo to their Facebook page and said, "She is pure, pure joy."
It didn't take long for Matilda's foster parent, Kerrie Rich, to fall head over heels in love with her. Rich reports that Matilda fits in with her other foster dogs, plays with toys, and hangs out with the neighbors, too! We are so happy she found someone to take care of her!
Shelter dogs have a tough enough life just waiting everyday for someone to come and rescue them. However, shelter dogs in Arkansas are facing another danger that threatens their life.
The Humane Society Of The Delta in Arkansas had their shelter dogs targeted by a monster that is breaking in and using them for bait dogs. They believe someone intentionally opened many of the cages of the shelter dogs. They are unsure if they brought in their own fighting dog or just put multiple shelter dogs, especially pit bulls, in one kennel to fight for sport.
The staff came in to find multiple dogs with puncture wounds. "The scene was straight out of a horror film. It was a bloodbath. Kennels had been destroyed in the mayhem to give you an idea of the kind of fighting and violence that took place," posted the shelter after the first attack.
Rubio, a 9 year old lab mix, had the most injuries and was fighting for his life. Thankfully, he was rushed to a vet where they are caring for him and he is slowly improving. The shelter put out a plea to have people donate to help cover the medical bills of the injured dogs and for a security system. They went on to ask for help installing it.
One day, Audra Petraškienė from Lithuania saw a sight that she wishes no one ever has to see. What she saw shook her to her core, but she's glad she saw it, as it helped save a dog's life.
When Audra was driving along a riverside, she noticed a wet, shivering dog on the riverbank. She also saw something horrific – there was a metal weight tied to the dog's neck. Audra immediately got out and rushed to the dog's aid.
The dog had a makeshift anchor tied around his neck and was then thrown into the river. But the brave little dog, named Toriuk, fought and swam his way back to the riverbank. Fighting her tears, Audra took the dog back to the vet, where it was confirmed that the anchor weighed more than 13 pounds!
A stray pregnant Pit Bull was wandering the streets of York, South Carolina, all by herself on a cold winter day.
Animal Control officers picked her up, but instead of bringing her to a shelter, they contacted a local rescue to see if they'd take her in. It was best that this sweet mama-to-be give birth at a rescue in a comfortable setting as opposed to a scary shelter.
Halfway There Rescue agreed to take her in and later named her Daya. Sadly, Daya lost her babies in utero and on top of that, she had a bad infection that required surgery. Thankfully, everything went smoothly and she went to live with a foster where she could recuperate.
Daya was now safe, but one important thing was missing: her babies. Staff noticed that Daya would take in socks and toys and act like they were her babies, perhaps to fill the void.
Rescuers came upon a horrific sight when they were walking on an Albanian city street. Hero, 8-year-old dog, was wondering the streets with his eyes recently gouged out. The poor dog had endured so much cruelty and pain, yet he trusted humans to help him.
Rescuers brought the dog to Blind Dog Rescue UK, a charity that specializes in helping blind and partially blind dogs in Europe. There are no words to describe how staff felt when they saw the cruelty Hero had suffered. The rescue group was able to find a safe home to rehabilitate Hero in at Halfway Home Dog Rescue.
"He had his eyes sewn up after managing to fight off a terrible infection." Hero's suffering was not quite over. He was examined by a vet and found a cancerous tumor that needed to be treated.