There is only one photograph of Cabezoncito, a Peruvian street dog, before he was rescued. In it, the dog is strapped to a wheeled contraption at a metro station in Lima, Peru. The straps are tight around the dog's body, and it looks like he wouldn't be able to move. So he just lies there with his head hanging down.
While little is known about how Cabezoncito ended up at this metro station, Sara Moran, founder of Milagros Perrunos, a small shelter that cares for disabled dogs in Peru, believes that his owner tied up him up and left him there after Cabezoncito injured his back legs.
"Cabezoncito apparently suffered an accident where he was disabled without being able to walk," Moran.
When a group of young people found Cabezoncito there four years ago, they unstrapped him from the contraption and fed him. They thought the dog would be okay after that, but when they returned to the spot two weeks later, they found Cabezoncito tied up in the same spot. Droves of people walked past, and no one seemed to care. And Cabezoncito was very sick by this point, according to Moran.
t's a heartbreaking story we've all heard far too many times. An innocent dog abandoned and forgotten on the cold city streets, waiting faithfully for owners who will never return.
The pup, named Ollie-Loo by his rescuers, was discovered sitting on the curb amid the boxes and discarded furniture his owners left behind. He was curled up tightly on their old recliner, trying to keep warm.
Animal Advocates found a neglected dog named Diesel in the Yukon where he was chained up year round for four years even when temperatures reached as low as -40 degrees. All he could do was take turns keeping one paw off of the frozen ground.
Being chained up also meant that he couldn't fight off loose dogs who attacked him, and he had been kicked in the face by a horse which broke some teeth and split his tongue. His owner had grown tired of Diesel and was going to shoot him. But thankfully, Animal Advocates was asked to help.
Georgie the daschund had a rough start to life. He was rescued by 63-year-old Charmaine Keevy in South Africa, where he learned what love and friendship were. One of his favourite things to do was go on his daily walks with Charmaine. One day while out walking, Georgie became obsessed with the storm drain; barking and carrying on. Charmaine thought that she heard meowing and when she got down on her knees to inspect, she realized that it was not a kitten meowing… but a baby crying!
The drain was blocked by a concrete slab, so she flagged down the first car that drove by. Inside that car was a man who would turn out to be a hero; Cornie Viljoen. Together, the pair pried out the concrete slab. Despite there being a six-foot drop, Cornie jumped down into the hole without hesitation.
Once he got down the hole, he was immediately bitten by red ants, but that didn't deter him. He quickly realized that this was a crime scene and snapped a photo for the police. He then reached down and felt around for the baby girl down the storm drain. She had obviously been there for a while, naked and cold, with her umbilical cord still attached.
A maintenance worker was investigating a burst pipe inside a housing complex in Wichita, Kansas, and as soon as he entered he realized something was not right.
When he opened an apartment door, he was hit with a horrible smell, and then he noticed a small plastic dog crate in the corner of the room. Inside were two 7-month-old puppies.
Though it was clear the puppies were in distress, he found it odd that they weren't making any noise.
"There was feces and urine just spilling out the front of the kennel," Sarah Coffman, executive director of Wichita Animal Action League, told The Dodo. "Then he noticed that the puppies couldn't open their mouths — so he shined a flashlight in the crate and realized that they had something wrapped around their muzzles, and that their noses were really swollen and red."
Unsure of what to do, and unwilling to leave the two terrified puppies alone, the maintenance worker called a friend who fosters dogs for the Wichita Animal Action League. "She called us and was like, 'I don't know what to tell him to do,'" Coffman said. "I was like, 'Tell him to wait right there. I'm on my way and I'm bringing the calvary.'"
Early Tuesday morning, an employee was starting her day at the Georgia Welcome Center, just across the South Carolina border, when she noticed a garbage baglying next to a trash can.
In an effort to tidy up, she bent down to put the bag back into the bin, but stopped in her tracks when she heard a pained cry.
There, inside the trash can, shiny marble eyes belonging to a tan Chihuahua weighing no more than 6 pounds stared back at her.
The staffer immediately lifted the scared animal out of the bin and brought her inside. Not sure what to do with the abandoned dog, and fearful that her supervisor would arrive any minute, the woman called a coworker who had previously volunteered with Hart County Animal Rescue for advice.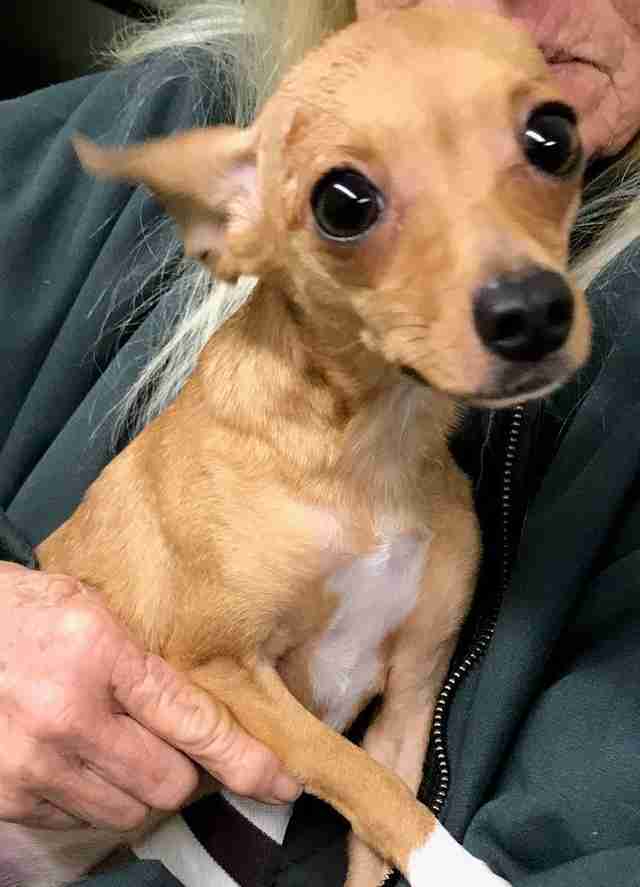 The dog, now named Carolina, was brought to the vet, and held overnight for observation. "She was wet, cold, hungry and scared to death," Judy Partain, director of Hart County Animal Rescue, told The Dodo. After a week of freezing rain in the area, it seemed a miracle that the frail, young dog had escaped the worst.
Did you ever get so excited that you just can't hide it? Despite her rough start in life and landing in an animal shelter, Matilda the Pit Bull puppy constantly smiled. At the Douglas County Animal Shelter, they discovered she had stomach worms, irritated skin, and wasn't feeling too good. The whole time, she wagged her tail anyway– and always looked so happy.
Pibbles & More Animal Rescue's coordinator, Teresa Bowles-Chiofalo, took notice of the happy pup and decided to get her a foster home. When the woman went to get the puppy, this is the face she made during the car ride. The rescue group posted the photo to their Facebook page and said, "She is pure, pure joy."
It didn't take long for Matilda's foster parent, Kerrie Rich, to fall head over heels in love with her. Rich reports that Matilda fits in with her other foster dogs, plays with toys, and hangs out with the neighbors, too! We are so happy she found someone to take care of her!